As one of the founder members of YesCymru Aberystwyth, I have had dozens if not hundreds of conversations with people about independence.
With friends, family members, work colleagues and strangers; Particularly on street stalls which we have held over the last year and a half since we set up our group campaigning for independence.
In almost every conversation I've had about independence the question of affordability is cited as the reason why Wales can't become independent.
Very few people who spoke to us are opposed to the actual idea of an independent Wales. In fact, many will say "I'd like it, but I can't see how we would afford it".
The survey conducted by YesCymru just over a year ago also seems to suggest that there is a greater appetite for independence than most would realise, with 26% of respondents favouring independence.
If we could allay people's fears about Wales' economic prospects after independence, support for the idea would raise significantly.
Therefore, we are, this Saturday, hosting a conference 'Financing an Independent Wales' at the National Library of Wales.
Among the speakers will be:
Dr Cathryn Charnell-White (Aberystwyth University),
Dr Rhys ap Gwilym (Bangor University),
Dr John Ball (Swansea University),
Guto Ifan (Wales Governance Centre, Cardiff University)
Mark Hooper (founder @indycube).
Economic illiteracy
The idea that Wales is too poor to be independent has been deeply engrained in the national consciousness over generations and dislodging it must be one of the primary goals of the YesCymru movement.
YesCymru's excellent ebooklet Independence in Your Pocket already goes some way to helping answer these questions, but is just a starting point which we can build from.
Unfortunately, our task in presenting the case for economic independence is made more difficult by the fact that the UK Government (perhaps deliberately) does not record the data for Wales on such fundamental questions such as VAT and GDP.
We also know that even where official statistics are available, they probably underestimate Wales' GDP and how much the country raises in tax.
Unfortunately, until we can build our case, British nationalists will continue to claim that an independent Wales would be billions in the red.
They do not seem to care, of course, that the UK has a trade deficit of £133 billion and a national debt of £1.7 trillion!
Our task in demonstrating economic competence as a movement are thus two-fold. We must be able to dispute the figures provided by UK sources in a credible and economic literate way.
We must also be able to present a new model that offers hope to the people of Wales, and demonstrate that their living standard will be the same if not better in the short to middle term.
Both require a greater understanding of the economy of the UK (which is now in a state of flux thanks to Brexit) but also of economic practice outside of the UK.
We need to understand what it is about smaller nation states such as the Nordic states that, without vast natural resources, have such good public services and standards of living.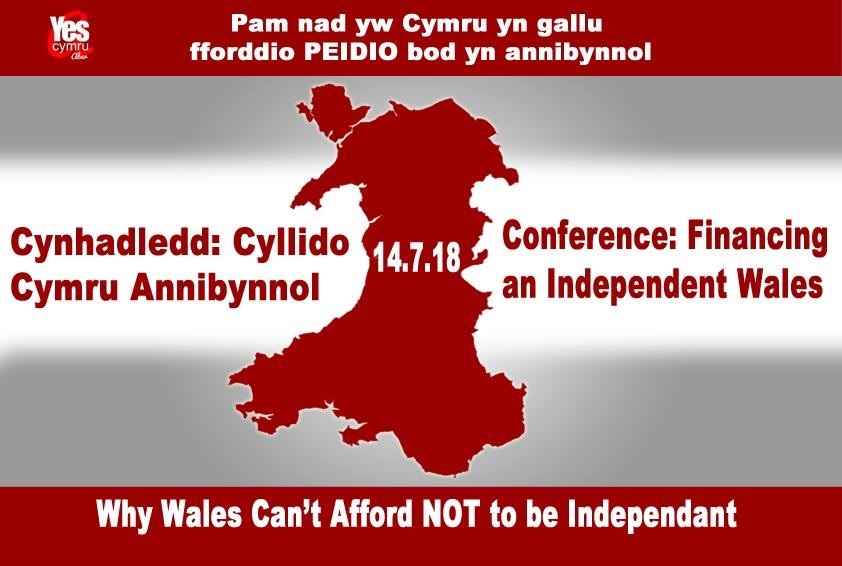 Pavlov's dog
An important part of the fight against the perception that Wales can't afford independence will of course be to wean the Welsh people off sources of news that seek to belittle Wales' prospects at every opportunity.
Most of the news sources read by people in Wales are virulently nationalistic and are happy to dispense with the facts altogether to make the case for keeping a fracturing UK together.
As the campaign for Welsh independence gathers steam these news outlets will no doubt turn their attention to Wales, as they have Scotland, and attempt to stop us in our tracks.
To counter this barrage, we must have the economic facts at our fingertips and be ready to reiterate them and punch holes in the counter-arguments when the time comes.
It is for these reasons that we hope that you can join us at the National Library of Wales this Saturday for our event 'How Wales can't afford NOT to be Independent'.
We have four highly knowledgeable and engaging speakers who will be able set out, an alternative vision for the Economy in Wales and beyond.
It promises to be an illuminating event for anyone who is interested in economics or independence for Wales.
This article was originally published by Nation.Cymru.